In the new season, the trend of underwear as outwear has transformed and has become almost everyday. As the underwear in the new season shows, and with what to wear it, understood 23-59.
A friend of mine once admitted to me that the photograph of Madonna in a bra over a black bodysuit made him begin to look more closely at the details of the clothes. Now he teaches at the Academy of Art. Another acquaintance recalled that he frankly did not see sex in this way and wondered what everyone admires so much. Now he, do not believe it, is a psychoanalyst. Some guys still dream of finding a strip bar where they are shown something similar, and some fetish silk vintage-looking lingerie. Charged to the sex image of the Madonna in the bustier over the black bodysuit in her Blond Ambition tour, she still does not give everyone peace. It seems that this look-symbol of the 90s with all its grunge, silk combinations and a new style of dressing without rules and the desire to be elegant, describes and explains the popularity of the modern trend for underwear-like-clothes. But it only seems. As is usually the case with laundry, the main thing is hidden from a superficial view.
Madonna on the Blond Ambition Tour
This summer and spring, linen does not resemble BDSM ammunition. Does not appeal to debauchery and lust. Not an inspiration for sex adventures. Rather, it causes nostalgia about childhood in leggings or expensive underwear stores that sell elegant homemade silk. The best examples were in the latest collections: Raf Simons for Dior and Alexander Wang for Balenciaga. In the first, tops, shorts and shirts resembled pajama knickers and nightgowns. In the second – all silk outfits – T-shirts and dresses with a bodice tailored to the retro pattern, tops on small buttons covered with silk, combined with lace slippers. It was more like "suddenly from my mother's bedroom" – a frank statement about how a very simple home intimate goes out into the white light. Not an elegant outfit in silk pajamas, for the sake of which many girls bought a kit for the first time in their life, namely this one – simple and disheveled, most reminiscent of life.
Dior Spring-Summer 2016 Collection
Balenciaga Spring-Summer 2016 Collection
Therefore, in the matter of compiling sets for underwear, it is worth approaching without erotic aspiration, but as pragmatic as possible. Sheer skirts and trousers were a hit last summer. In the new season, maximum attention is riveted to the bust. Wearing a tuxedo, vest, overalls with a deep neckline is lace and closed, more like a top. The more openwork canvas appears in the sections, the better – so the outfit seems more complicated and inventive. A dense colored bodice, preferably in a contrasting color or intricate cut, which will look like a full-fledged accessory on a neutral background, should be put on a shirt or tight-fitting golf. The best example in the Loewe collections: the underwired bodice makes a plain set of flared trousers and golf in a trendy way. However, Dries Van Noten also captivated everyone with pointed bras, worn over transparent tops. If you wear such a bodice on your own, it is better to combine it with things with a high waist, and choose the most sporty model itself. In a word, no hints and halftones. If you decide to wear a bra, then with maximum cynicism, like a top or a T-shirt.
Dries Van Noten Spring / Summer 2016 Collection
Mugler Spring-Summer 2016 Collection
The reason for such an easy attitude to underwear is attributed by historians and psychologists to social networks. There you will meet a half-naked girl more often than well-dressed, and there are more cherished thoughts and aspirations than in any frank conversation. Too much seemed outward with the advent of the Internet era – it is not surprising that designers began to comment on this in their collections. What was previously considered indecent – both in terms of underwear and behavior – is now being carried out.
It was indecent not so long ago. One hundred years ago, the word "unmentionable" was reserved for lingerie in English. In many ways, the ladies on the canvases of the Impressionists were not shocked by the selection of colors and the non-classical style of writing, but by their outfit – not closer to the total-look. Elizabeth Taylor looked desperate for a ready-made girl in "Cat on a Hot Roof," because she walked freely on the screen in a silk combination. Shame in the name of underwear has remained so far, and is in any language. In Russian, the "bra" sounds too market-like, the "bra" – haberdashery, the "bust" and other diminutive ones — it's gone, the "bustier" – mannerally, with the "underpants" is even worse. The familiar gloss editor once admitted that she and her colleagues spent many hours discussing acceptable names of underwear for the magazine, and still were not too pleased with the result.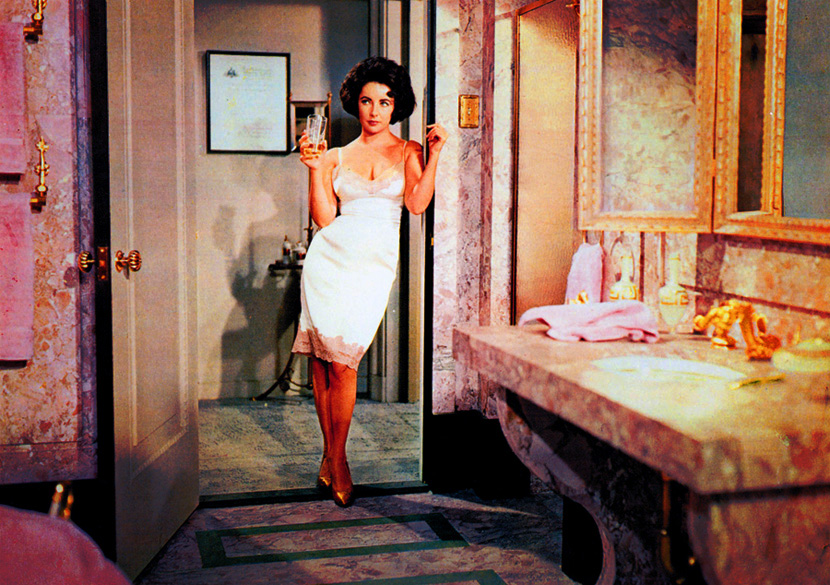 Shot from the movie "Cat on a Hot Roof"
Any details of the laundry on the podium aroused similar emotions – those who decided to show the designers were crowned "rebels" and "revolutionaries". Among the main examples, of course, are Vivienne Westwood with the Buffalo collection (1982) with bras over sweaters, and, of course, Jean-Paul Gaultier with Dadaism (1983) with bras, corsets and garters over clothes – after this image the designer beat in costumes for the Madonna Blond Ambition tour.
And if then it was a challenge, now it seems to be a necessity. Whether we like it or not.
Tags: Balenciaga, Dior, Dries Van Noten, fashion, lingerie, lingerie over clothing, bra, bustier, lace, Madonna, fashion, trend