"Sometimes it seems that these are my pets. But they are very comfortable, "an unfamiliar girl reacted instantly, seeing a dumb question in my eyes. I had something to be amazed at – her oxfords embroidered with coral sequins with a five-cent coin seemed like living creatures from the underwater world, which sailed in reality by themselves. "I'm tired of the shoes being so boring. It is one thing to wear bright jewelry. But the necklace and earrings can only be seen in the mirror, and so – looked at the legs, and the mood improved, "the interlocutor turned out to be the designer of the Georgian brand Mach & Mach Nina Masharashvili. The Mach & Mach collections contain highly decorated shoes. I want everything – I see how these shoes embroidered with a cheerful decor transform my restrained wardrobe and do not require anything in return. The effect was instantaneous: street-style photographers spotted Nina from afar and long followed her legs with the clicks of cameras – and these guys know a lot about the main trends!
Shoes Mach & Mach
Embroidery, sequins, bugles, large crystals and feathers – couture elegant shoes won this season, which stands out not only in the color or shape of the heel, but in particular the amount of decor and handmade. Real court shoes for every day – it looks like a fairy tale, although the appearance of the trend is quite understandable.
For at least five years, everyone was deeply involved in minimalism. The wardrobes were thinned out to a beige-gray-white-black-blue gamut, beautiful in all respects, and were bored in the monotonous beautiful kingdom of restrained images, clean lines, volumetric proportions and other descriptions of clothes of a confident person. The pendulum swung the other way. It all started with clothes with excess luxurious decor, and now the trend has touched shoes. At the spring-summer 2016 shows, it is impossible to take your eyes off the shoes.
Shoes collection Marc Jacobs spring-summer 2016
Shoes collection No. 21 spring-summer 2016
Buboes and feathers in shoes No. 21, naive flowers, tassels and dots of glass beads and beads by Marc Jacobs, Oscar de la Renta, Undercover; large pearls with Emilio Pucci sandals and pointed Prada ballet flats with metal clown size beads, open Fendi crocodile leather ankle boots with colored plastic circles, playful mary jane with gilded Dolce & Gabbana sculpted heels, tricky lace-up lace-up sneakers all these shoes are made with a sense of humor and provoke positive emotions. But in order not to be ridiculous yourself, these can be better worn during the day with simple or rich clothes and print and color. With an evening gown – never: in such a duet they seem too elegant.
Shoes collection Prada spring-summer 2016
Shoes collection Dolce & Gabbana spring-summer 2016
Some models resemble boudoir ones – velvet slippers with embroidery or feathers on high-heeled glasses, as in the collections of Litkovskaya and Lake, or lace slippers, as in the latest collection of Alexander Wang for Balenciaga. Gucci spoke particularly vividly in this respect: they created the effect of lace and bows on embroidery with the 3D effect – a technique that was also used on amazing dresses. Boudoir shoes on the street are an expected thing. Silk pajamas from the bedroom went outside, however, for the sake of the trend, some girls specially bought this one for the exit, because they preferred to sleep and prefer what the mother gave birth to. Following her there were velvet sleepers with embroidery or feathers. It looks sensual and erotic – like, however, any flirting with the theme of underwear. It is better to wear such shoes with clothes, of course, simple masculine, or delicate romantic chiffons. This spring, a lot of linen does not happen.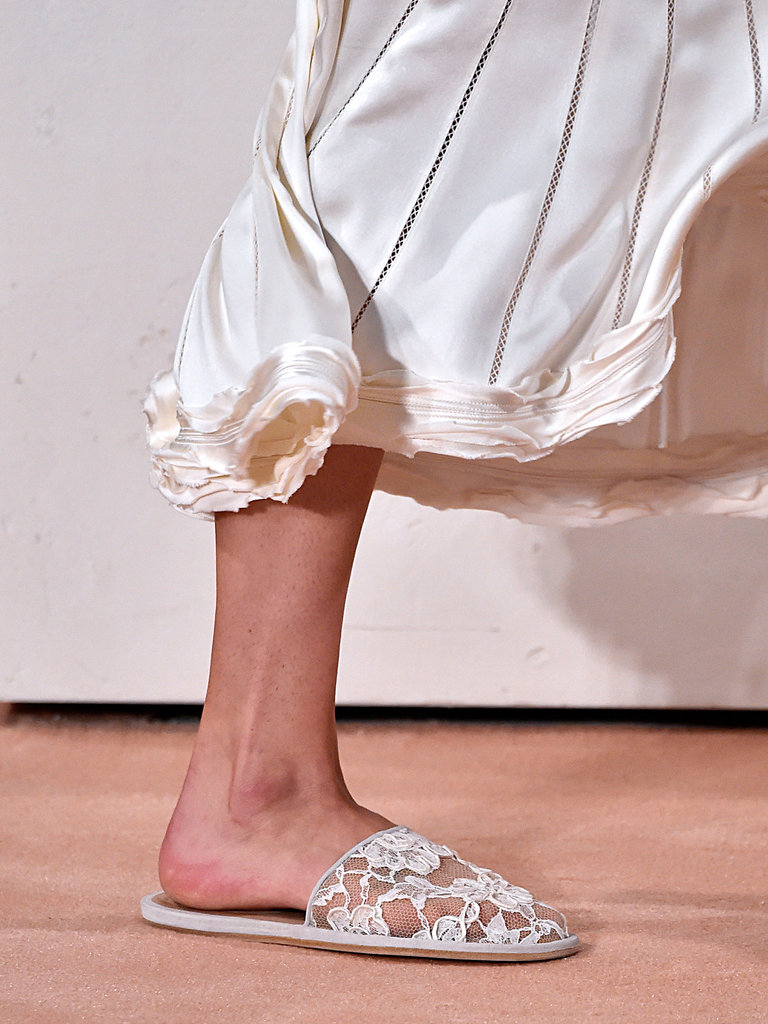 Shoes collection Balenciaga spring-summer 2016
Gucci shoes spring-summer 2016
Collage of the image of the collection of the lake Spring-Summer 2016
Tags: 2016, Balenciaga, Dolce & Gabbana, fashion, Gucci, Marc Jacobs, No 21, Prada, spring-summer, decor, decorated shoes, fashion, shoes, season