IIIIT x PINandJOY
There is a theory that at the first meeting it is not the general image that is remembered, but its individual details – the aroma, curls falling carelessly in the eyes, catchy decorations. It is they who remain in the memory as the very "unique impression" of a person. This is why the tiniest accessories play an even more important role than clothing. Brooches or badges that have regained popularity this season can help to add such features to the image. We have chosen the most interesting and diverse among Ukrainian designers who will definitely dilute your wardrobe and make it unforgettable.
Brooch Côte & Jeunot
Miniature jewelry for every day for Côte & Jeunot is created by designer Lena Hawk. Her silver collection includes rings, earrings, pendants, bracelets, as well as elegant brooches in the form of ironic symbols. For example, like this "Marta" brooch – a figure in a flying dress looks so much like us girls, always in a hurry, sometimes late, in a hurry to do a thousand important things day after day, often losing their heads in this pursuit of success.
Where to order: cote-jeunot.com
Brooch hi girl
Even the simplest and most versatile casual bow with jeans and a white T-shirt can be made catchy and memorable, thanks to just one detail – the bright Hi Girl brooch. The brand creates the decor by hand, decorating products with embroidery from beads, sequins, stones and feathers. Of course, such a tinsel accessory will not give its owner a single chance to remain unnoticed in the crowd. Among the most diverse assortment of the brand, we liked the pink flamingo, which just corresponds to the main color trend of the season and will be combined with any of the pink dresses, which, as we said, must-have this spring.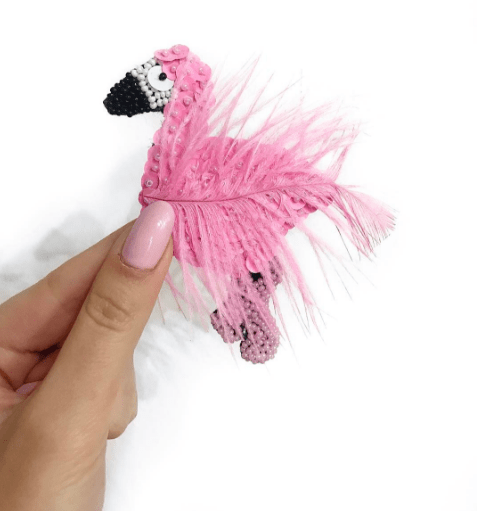 Where to order: www.instagram.com/higirl_workshop
Navro Icon
The unicorn symbol has become a new trend in the beauty industry – from dyeing hair in the color of a unicorn's mane to lipsticks in the shade of "unicorn tears". Unicorn also did not bypass fashion, finding his very different roles on clothes. For example, designer Olga Navrotskaya in her fabulous collections gives new life to a magical animal, symbolizing the sun's beam, purity, freedom and knowledge of the truth. Therefore, in addition to clothing, the brand's collection has unicorn badges that will not only be a charming decoration for clothes or accessories, but also serve as a talisman.
Where to order: navro.ua/shop/unicorn
Brooch Velar
Velar is a brand of jewelry designer Polina Medvedeva, whose products are commonly referred to as "intellectual conceptualism". The inspiration for the designer is Chinese culture, poetry and painting. Therefore, in his jewelry, the designer with graphic accuracy reproduces plants of East Asia – sakura, bamboo, pine. The brooch in the form of a heather branch looks very unusual, which will appeal even to those who do not like to wear jewelry at all.
Where to order: velar.com.ua
Evlash Icon
An original niche was found by the Evlash brand, which creates badges from natural wood – oak and maple. The collection of the brand has a wide variety of symbols – from multi-colored icons with the image of donuts and cupcakes to plain ones, in the form of a camera or deer. But the most creative collection of the brand are badges in the form of portraits of famous personalities – Steve Jobs, Marilyn Monroe, Nikolai Gogol, Albert Einstein and other cult personalities. You can choose your personal idol who will make your outfit original, and will also motivate you to new achievements.
Where to order: www.instagram.com/evlashua
Brooch Natasha Fishchenko
Designer Natasha Fischenko, who creates huge avant-garde knitted brooches, completely turned over any of our ideas about how a brooch might look. Each of her brooches is an art object woven from contrasting multi-colored threads of different thicknesses. At first glance, this decor seems too shocking, but attaching it to any thing – a sweater, dress, coat, jeans – it becomes clear that the brooch harmoniously transforms clothes, turning an ordinary unremarkable wardrobe into bright exclusive finds.
Where to order: www.natashafishchenko.com
IIIIT x PINandJOY Badge
In collaboration with PINandJOY, a collection of badges was also released by illustrator Lilit Sargsyan. Badges in the form of elephants, octopuses, birds, poppies are made of enameled metal according to the sketches of Lilith herself in her author's recognizable style. You can buy them both individually and in whole sets that look especially picturesque in bulk on laconic basic things. For example, we fell in love with halves of pomegranate, which can become an alternative to the usual jewelry, such as a necklace.
Where to order: www.facebook.com/pg/lilitartstore
Brooch Helga Zubchevska
Embroidery artist Helga Zubchevskaya creates unique brooches, meticulously hand-embroidered, and convinces us that each item is exclusive due to handmade features. Two identical ones is simply impossible to create. The main motive of her work is zhvtnye, insects and birds, where each flap of the wings is reproduced with fine color stitches almost with portrait accuracy. By the way, in addition to colorful birds, the master's collection has feather badges that are made with no less jewelry. It seems to us that bright feathers are what you need to add to the image of the spring mood and the sound of birdsong.
Where to order: www.instagram.com/helga_zubchevska
Tags: Accessories, Brooches, Badges, Decorations