Kiss my eyes
Like it or not, in the spring you always want to add at least a drop of colorful notes to your wardrobe, even if you are used to dress with restraint and don't tolerate excesses in clothes. But buds blossoming around and sunny mood usually dictate a change of style. Therefore, today we recommend adding bright stitches and multi-colored threads to the image and telling you with the help of what things it is easy to do.
Blouse VARENYKY FASHION
Continuing the traditions of Ukrainian embroidery, VARENYKY FASHION designers attach great importance to their patterns. As for our ancestors, for them it's not just "flowers and plants", but sacred symbols of health, well-being and harmony. For example, the fern that adorns the FIRE FLOWER blouse is an amulet that helps unleash strength of mind. It is made in the Richelieu technique, created in Renaissance Italy, where the craftsmen knew a lot about handmade art. In general, you need to wear and watch how this "talisman" changes life for the better.
Where to order: varenykyfashion.com
Shirt KISS MY EYES
KISS MY EYES brand has won the hearts of Ukrainian fashionistas with its sleep masks with charming bright prints. But the designers did not dwell on pajama themes, and included in their new collection basic everyday things – jeans, t-shirts, hoodies, shirts, in cut and style more reminiscent of a simple men's wardrobe. But the colorful ironic embroidery with the beloved guilty pleasure – fast food – instantly turns simple clothes into an object with a mood, character and message. For example, we have already added a white shirt to the wishlist, which will decorate not only office or casual look, but also an Instagram account.
Where to order: kiss-my-eyes.com
Shorts Ksenia Schnaider
If you still think that large embroidery on clothes is too defiant, start small. For example, with shorts from the brand Ksenia Schnaider. Small and not too bright bouquets of flowers very unobtrusively located on the surface of the fabric, giving them elegance and not too striking. Ideal for a spring walk.
Where to order: shop.kseniaschnaider.com
Coat Lili Bratus
For designer Lilia Bratus, clothing is a whole philosophy. Still, she took the first embroidery lessons from her grandmothers, each of whom was a master in creating traditional ethnic ornaments. Lily herself was born and raised in the Carpathians, therefore she knows perfectly well what a real embroidery is and what is the meaning of it. But for us, the discovery was the collaboration of the designer with the artist Anastasia Podervyanskaya "PortraitCoat", in which they released colorful coats with embroidery of famous paintings on their backs.
Where to order: www.instagram.com/lilibratus_official
Dress Lalkarka
The goal of this brand is to create clothes for charismatic, courageous, independent, but at the same time sensual women. That is why the models created by Anna and Alexandra Loyanich surprise with their originality, coupled with sophistication. Among the most elegant models of the latest collection is a light brown dress with long cuffs and a collar decorated with embroidered flowers. This is the case when small elements set the mood for clothes and modest things turn into authentic.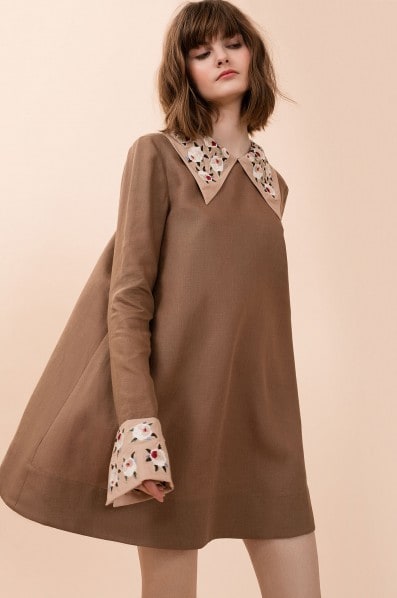 Where to order: lalkarka.com
Costume Icon Mania
From Icon Mania clothes, born in Odessa, it blows fresh sea and warmth. In particular, from a boho-style costume: on the one hand it is rich black, on the other hand it is incredibly light. And all thanks to the bright floral embroidery on the chest. The 3D-drawing fills the suit with a new meaning and, of course, it makes you want to jog along the seashore.
Where to order: www.instagram.com/icon_mania_
Brogues Anna Marchuk
This brand is proof that the embroidered shirt can be worn not only on the body. Take a look at the Svetlana brogues: traditional Ukrainian patterns look as harmonious on shoes as on a dress or blouse. Of particular value to this pair is the fact that they are made of genuine leather, and the embroidery is created manually.
Where to order: www.annamarchuk.com.ua
Earrings KATERYNA TYMOCHKO
The fox is one of the most charismatic heroines of folk tales and cartoons. Playful, wise, cunning – just like a girl. Maybe that's why Kateryna Tymochko chose the fox as a symbol for the collection of her accessories. On her handbags, clutches, purses, earrings and handmade pendants, this forest character appears in different guises. The main thing is to choose the one that you like.
Where to order: vk.com/katerynatymochko
Unique U Bag
The founder of Unique U brand, Elena Yudkevich, created the first handbag models in her kitchen, and in the same place she came up with the philosophy of the brand, which she called "The Secret Handbag". The bottom line is to make durable accessories from high-quality leather and decorate them with embroidery, without limiting your imagination. It happened with the BIRD DREAM model: against the background of black leather, fabulous birds seem to fly out of flowers, forming a pacifist symbol. This embroidery reminds of the hippie era with the most romantic and stylish heroes.
Where to order: unique-u.biz
Patch P.Patches
Sometimes one detail can unrecognizably change the appearance of a thing. It is these accents that make the image vivid that the P.Patches brand produces. A floral patch will be a win-win decoration for a bag or, for example, a jacket. A great way to diversify the current minimalism today, giving a bored basic wardrobe a spring mood.
Where to order: www.instagram.com/p.patches
Tags: embroidery, Ukrainian brands